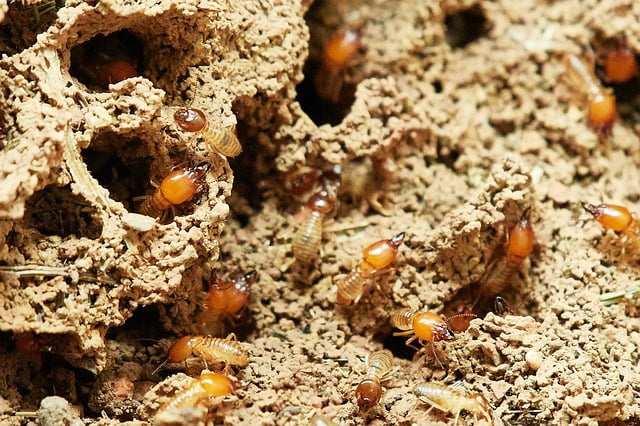 Termites
Termites are something we could talk about all day. I know as home owners there is a certain element of fear when it comes to Termites and how best to protect your home against an attack. By the end of this blog you will have a better understanding of ways to make your house less attractive to Termites.
But first I thought I would share with you my parents story and how termites nearly destroyed them not once but twice financially.
The first time Mark and Chris encountered termites they were living in an old house in South Australia. An extension had been completed to the house before they purchased it. The extension hadn't been protected in the way of a termite management system. Mark was in the bathroom and a piece of chipboard that was attached to the wall had started to come away from the wall. He pulled it back and low and behold there was a huge amount of termites.
This was not an expense that had budgeted for with three children and one income they were panicked. I can remember Mum in tears and from that day I knew Termites were like a swear word in our household.
The second time was when my parents had a property in South Australia and it was tenanted, things turned sour with the tenants and they were asked to vacate the property and were give three months' notice. When Mark and Chris gained their property back they noticed in one of the rooms there was a large mud lead up the wall. The tenants had become aware of this but out of spite had decided to not report it. The damage was thankfully contained in that one room but the cost to have them treated and the wall repaired was in the thousands.
In both of these situations had they of had regular inspections and protection to the property this could have been avoided.
TERMITE FACTS
Termite damage is not covered under insurance policies and yet they cause more damage to your home than natural disasters, theft and burglaries combined. For more information on what isn't always covered in your insurance have a read here..
Termites cause $1.3 billion in repair costs to Australian homes each year.
The good news is you can take action to prevent Termites in your home.
HANDY TIPS TO PREVENT TERMITES
Simply keeping fire wood and other timbers away from your home. Don't store firewood under your sub floor or up against the house.
Keep garden beds away from the house perimeter and earth away from weep holes
Make sure there is no water dripping around your home, run a hose from your air conditioner away from the house and the same with your hot water system.
The next level is making sure your home is inspected by a licensed Pest Controller annually. The cost for this is minimal when you compare it to the cost to repair your home.
The installation of a termite management system is the optimum way to protect your house. The two main options are a chemical barrier which is applied to the slab edge of your home, think of this as a moat of chemical around your castle.
The second option is a baiting system which is less invasive, this consists of baiting station that are installed every 3 meters around the drip line of your home. Zero Termite and Pest use Sentricon in these baiting stations and you can learn more about these here.