Landlords or Tenants, who is responsible for the pest control?
Pest control covers a broad range of infestations. Cockroaches, rodents or termites at some stage during a tenancy an outbreak may occur in the rental property. The question is "Who is responsible for managing the pest control?"
The legislation for managing pest control is unclear and can often be misinterpreted.
A tenant is required to keep the property clean and the landlord is required to keep the property maintained to be fit for tenancy.
Some local councils in Australia require residential property owners to engage pest control companies to undertake annual pest control on their properties.
Your responsibilities as a tenant:
Your responsibilities are for any flea infestations caused by your own pets. You can help to prevent pest infestations by securing all foods and not leaving bowls of food around the home.
Be sure to always complete your entry report thoroughly and note any pest issues that me be evident.
A tenancy agreement where pets are on the lease requires the tenant to complete a Flea Spray on vacating of the property.
As a general rule, however, any outbreak or infestation of pests such as rats, mice, possums, cockroaches, termites, ants, spiders, wasps or bees requiring attention by a pest control operator is the responsibility of the lessor/property manager.
Your responsibilities as a property owner:
Property owners are responsible for pest and rodent control. The only time this can be argued is if the presence of pests are caused by a lack of housekeeping and cleanliness. If the tenant is not disposing of waste correctly or is undertaking activities that increase the presence of pests, then the landlord can put this back on the tenant.
What is the solution?
Home Protect controls your pests, not your wallet. Simply select the package to suit your needs and rest easy knowing your property is being looked after 365 days of the year. Zero Termite and Pest work with you and your property manager to ensure your asset is pest free.
From $5 a week, our plans can see your property inspected for Termites, treated Internally once per year and externally twice a year for cockroaches, spiders, silverfish, ants and rodents.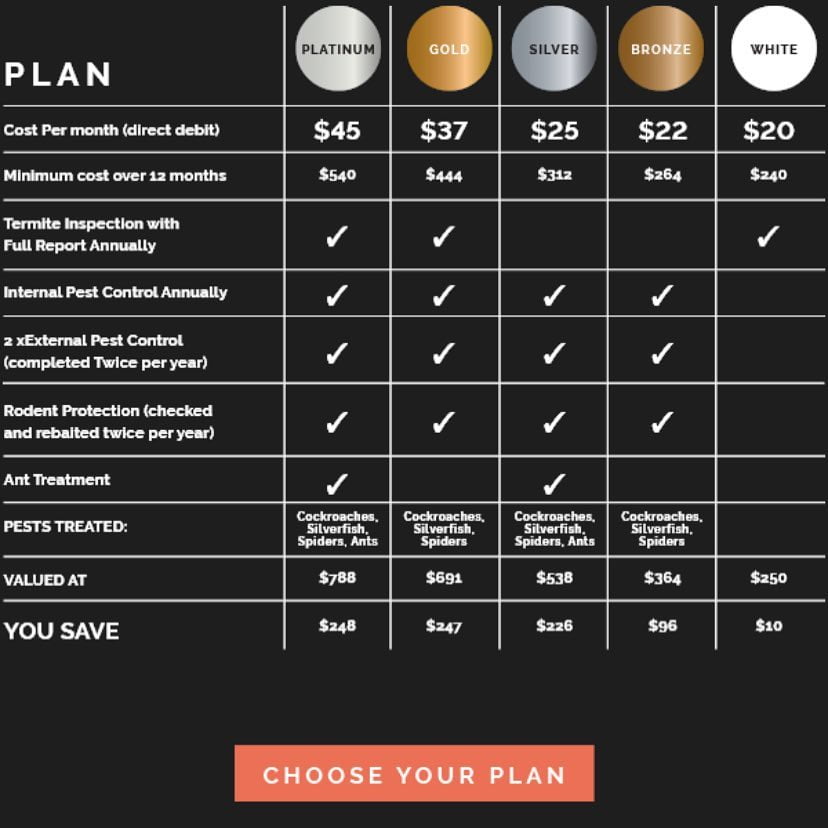 If you're a tenant, and you're concerned about your safety, make your concerns known to your property owner or property manager.